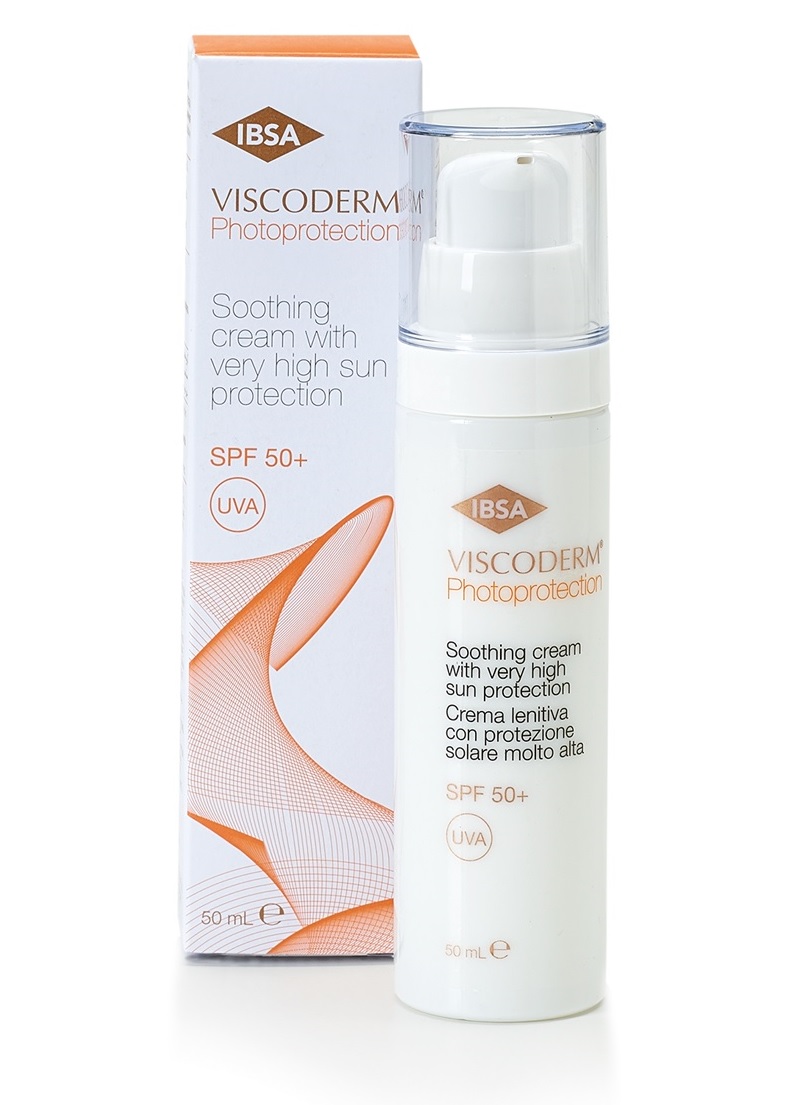 Manufactured by IBSA DERMA, this cream contains, like other products in the range, the high-quality hyaluronic acid which provides hydration while the high factor SPF 50+ protects against both UVA and UVB radiation. Due to the notable soothing effect at the same time the VISCODERM® Photoprotection is recommended to be applied after any aesthetic procedure to protect the skin again skin damage.
The cream is based on the combined action of the latest-generation photostable sun filters and MSM (Methylsulfonylmethane), contained in a light emulsion that spread easily and is rapidly absorbed. MSM is an organosulfide with important photoprotective, antioxidant and anti-inflammatory properties. The formula also contains ectoine, which stabilises proteins and other cellular structures, and helps the skin to hold onto moisture and counteract the drying effects of sun exposure. The combination of MSM, hyaluronic acid, ectoine and solar filters effectively counteracts the damage caused by ultraviolet rays whilst hydrating and soothing the skin.
With chronic and prolonged exposure to UV rays causing major alterations to connective tissue and changes to skin appearance, the SPF cream has become a vital step in everyone's skincare routine to protect the skin from photoaging, resulting in uneven pigmentation, the appearance of wrinkles, lines and dark spots. UVA and UVB rays directly cause skin damage by creating oxidative stress, forming reactive oxygen species (ROS), and producing local and systemic immunosuppressants that deplete epidermal Langerhans cells, inducing mutations of mitochondrial DNA
.
VISCODERM® Photoprotection cream comes in a 50ml airless pump bottle and is suitable for everyday use but aimed specifically at preventing damage caused by UV radiation following medical procedures that might alter the functionality of the skin barrier. It also counteracts the formation of dark marks on the skin that are triggered by solar radiation.
The SPF cream contains a high-grade, hydrating type of hyaluronic acid, which is great for dry, mature, and sensitive skin. Dermatologically tested.
The cream is fragrance-free and is indicated for elevated and effective photoprotection whilst also soothing the skin.
It is advised to apply the product in the morning and use 2-3 pumps to cover the face and neck, then reapply at least twice a day before sun exposure if needed.
Available to purchase from Wigmore Medical. For more information, please contact IBSA's exclusive distributor / training provider HA-Derma -
info@ha-derma.co.uk